PHILADELPHIA (WPVI) —
Thousands of protesters marched through Center City Philadelphia Wednesday night, speaking out against white supremacists.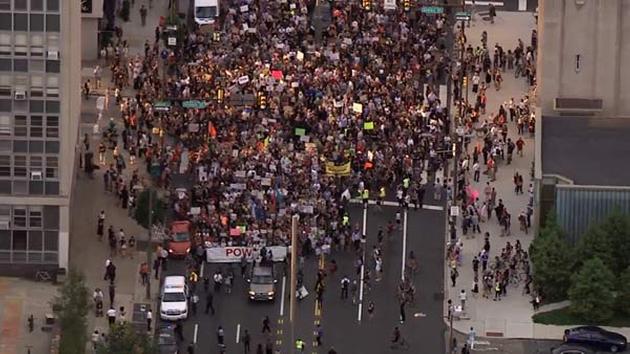 On Facebook, more than 2,000 people said they would attend the "Philly is Charlottesville March and Rally," also being called "Unmasking White Supremacy in Philadelphia."
The estimated 2,000 to 2,200 protesters began their march at Congregation Rodeph Shalom Synagogue at 7 p.m. Wednesday. The large crowd then started moving down Broad Street.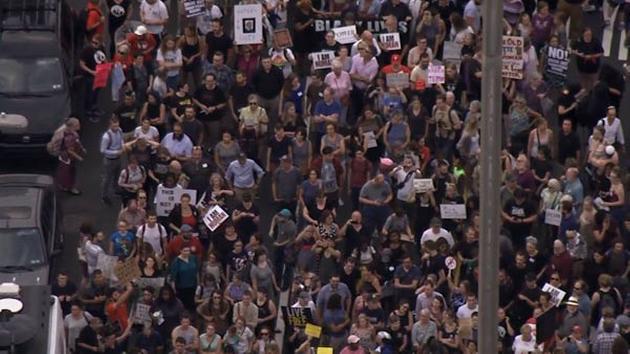 Kate Sunbeen of South Philadelphia said, "It's shameful that our president hasn't denounced what happened, 100 percent. So we are here to say, we don't support that."
A number of people denouncing the president believing that he did not come out strong enough against white supremacists and Neo-Nazi's
Susan Reardon of Center City said, "And I want him to persecute those people the same way any terrorist would be persecuted."
Black lives matter protestors chanted "Down with the Rizzo statue," an off-shoot of a call across several states to remove statues of confederate figures. Rizzo was seen by a number of protestors as a divisive figure deemed by some as racists for his policies. But as the rally converged at the United Methodist Church in Center City. Organizers also said this.
'It's not just about statues, but people who are self-professed Neo-Nazi's."
Among those on hand was the democratic candidate for Philadelphia District Attorney.
"They don't like Nazis, well neither do I. I think most Americans remember that this was a group of people we had to go to war with," candidate Larry Krasner said.
Indeed participants were reminded by at least one rabbi who was in Virginia during the violence last weekend that Neo-Nazi's are a real threat.
He said, "They would kill every person in this room. You get that? Nobody here is safe of from their hatred."
Some protesters were chanting "Down with the Rizzo statue" referencing the former mayor's statue across from City Hall as the march continued on. Earlier in the day, a man was arrested after throwing eggs at the statue.
The rally took place at 8 p.m. at Arch Street United Methodist Church.
Organizers say, "We must boldly rebuke all forms of bigotry on behalf of love, and on behalf of humanity, we must continue to resist all tactics to create fear and terror in the hearts, souls, and minds of marginalized communities."