BY: Karthika Swamy Cohen
It was a cold January morning in Philadelphia — though it felt warm.
The country has seen several bleak weeks in the aftermath of one of the most unprecedented elections in history. But this Monday felt like a warm spring day. Marches and protest rallies around the nation spelled hope and change, and above all, a determination to rise and fight.
Despite the circumstances, perhaps it was only fitting that Martin Luther King Day was the day that people made a promise to stand up and fight racism, bigotry, and misogyny. A promise to undo any damage that four years of a Trump administration could inflict on this country. A promise to rise up to a Republican Congress that is sure to try its best to unravel all the progress we've made over the last eight — and perhaps fifty — years.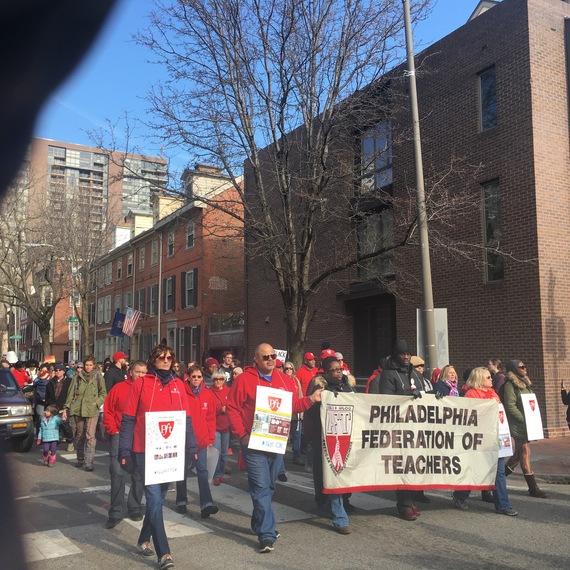 In Philadelphia, protesters gathered near the iconic Independence Mall for a "March for a Better America," where the issues of concern were almost as diverse as the people themselves. "Black Lives Matter" balloons filled the air. "Love always wins" proclaimed a sign that was almost as hopeful as the young child that carried it.
"Democracy not Plutocracy" screamed a banner; "Stop the War on Workers" another declared. And yet another demanded funding of renewables.
Of course, there is plenty to be worried about with Donald Trump in office. "I am very concerned about women's issues because of the attitudes the president elect has shown. There hasn't been the outcry around it from all corners that I think needs to be embodied now," said Lori Shorr, who was at the event. Her husband Steve Parks said he was most worried about "racist language being normalized and racist attitudes being seen as part of the regular discourse as opposed to just being abhorrent and objectionable."
The marchers proceeded south to Mother Bethel African Methodist Episcopal Church where they were treated with eloquent speeches, uplifting poetry, and calls to action. Groups involved in the protest included the Pennsylvania chapter of Black Lives Matter, Philadelphians Organized to Witness, Empower & Rebuild (P.O.W.E.R), Philadelphia Student Union, Philadelphia Federation of Teachers, Black Clergy of Philadelphia, and more.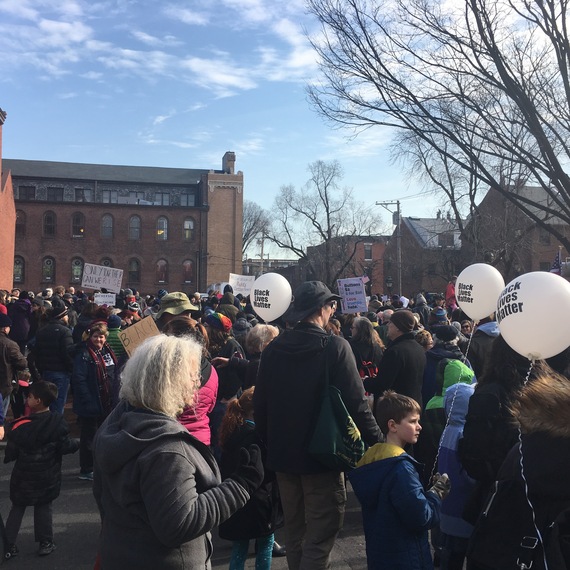 Reverend Mark Tyler, the senior pastor of Mother Bethel Church who coordinated the event, kicked off the demonstration by calling to mind the first large-scale demonstration of free African Americans 200 years ago at that very same venue, when African American men gathered to denounce the American Colonization Society's plan to resettle free blacks in West Africa.
"I want to tell you we are here today standing in their shoes in solidarity with them raising the same voice they raised. We are here today because they may not be saying we want to send black people back out loud, but they're saying we want to send undocumented workers who have helped build this economy. Because they're saying to Muslims because you say Allah and not Jesus you don't belong."
Rev. Tyler called on everyone — regardless of race, color, or religion — to come together and stand up and support one another.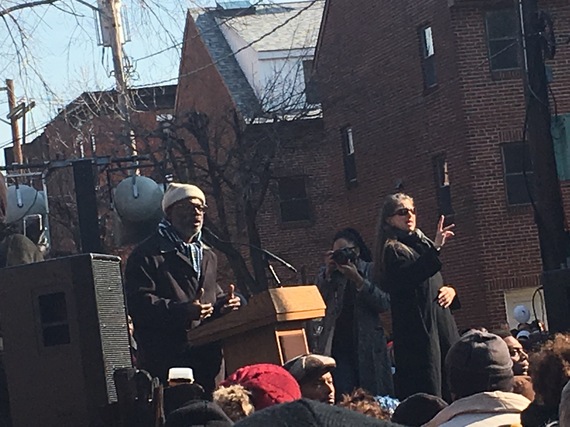 Dwayne Royster, political director of PICO National Network — a network of progressive faith-based community organizations — spoke about racism and the issues it presents.
Royster recounted how racism has been used as a tool to motivate people to vote against their own self interests. Referring to Donald Trump's slogan of "Make America Great Again," as a "straight-up lie" he said it was designed to bamboozle people. "We cannot allow racism, prejudice, and privilege in any form to stand. United we must fight to make a change in this country so that everybody can thrive," he said. "It is time that we came out of our silos: our religious silos, our racial silos, our issues silos."
He called on Jews, Muslims, Christians, Sikhs, Hindus, and Buddhists to support each other. Just as black people should stand with undocumented workers, the latter should stand with those of other races and religions. "We only win when we form multiracial, multifaith coalitions of people."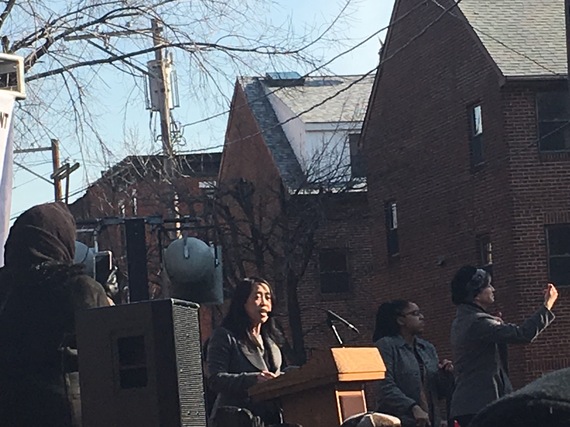 Councilwoman Helen Gym, the first Asian American woman to hold a Philadelphia City Council position, spoke about being a woman in America. Quoting First Lady Michelle Obama who said the measure of any society is its treatment of women and girls, she said, "At the end of this week, we will have a president who has consistently deemed and objectified woman, calling us dogs, slobs and fat pigs. And has boasted about sexually assaulting us."
"We cannot be naïve," she continued. "The America we woke up to on November 9 was always there, and that's what this fight is about." Going by the volume of assent, the crowd agreed. "In Philadelphia and Pennsylvania, let's not forget we've seen the same sickening mentality at play whether it's porn-gate emails spread among Supreme Court justices and prosecutors or a sexual predator protected at the Philadelphia Parking Authority." She went on to talk about "a big corporate giant freaking out over pay equity," mentioning Comcast by name.
Stating that eviction rates in Philadelphia — which are four times higher than foreclosures — disproportionately impact women of color, she argued that housing is a human right as well as a gender justice issue. She also noted that Pennsylvania spends ten times more per prisoner than it does on each child in public school, calling education a gender justice issue. The fact that teachers, who are overwhelmingly female, see their salaries at risk and labor rights under attack also makes education a gender equity issue. Lack of funds to prevent domestic violence and rape is another issue that affects women. Immigration reform is also a gender justice issue, she said, as mothers see their families torn apart by deportations. She called on all Philadelphians to come together and fight for reproductive rights, food investment, paid family leave, immigration reform, and to defend our Muslim community.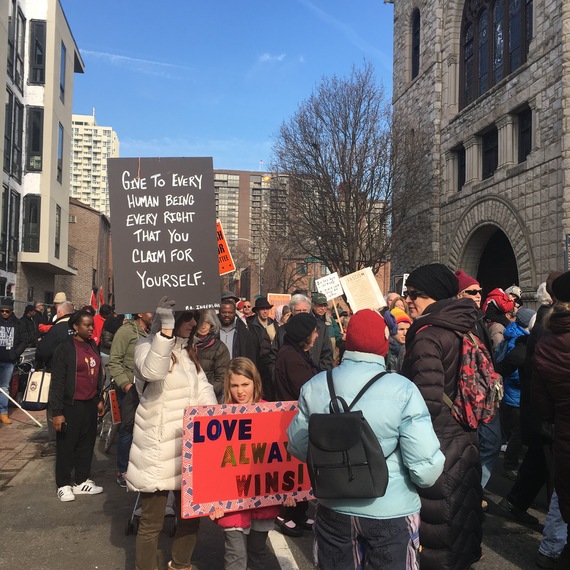 "If there were ever people who were built for this moment, it is us. And it is now," Gym said in conclusion. "We are creating the world agenda for our time, and together we are going to challenge this nation to be bigger than politics, bigger than the election, and build a future we will call our own."
Kyla Kathy, a high school student and member of the Philadelphia Student Union spoke about the issues plaguing the city's public schools. Highlighting the closure of over 20 schools due to the budget crisis, she said the situation has mostly affected students of color attending neighborhood schools: 81% of the estimated 20,000 students impacted by the closures are black, she said.
"Access to quality education is not something that should be demanded, it should be provided as a human right," Kathy said to cheers from the crowd. She emphasized the need for young people to rise against these atrocities, and for those who have the means to listen to those directly affected by these injustices to step up and make change happen.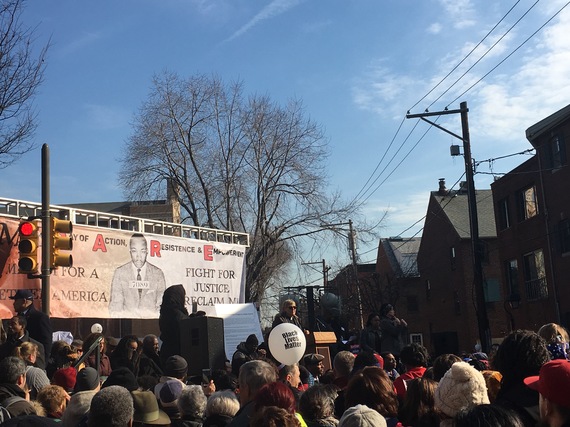 American Federation of Teachers President Randi Weingarten was a special guest at the event. "Will we make sure our voices are heard for the next four years?" Weingarten asked, and an echo of yes went up in the crowd. Weingarten talked about the importance of public education that lifts every single child, and called on the crowd to fight for good education, funding, management, and good teachers.
Education was a top priority for many in the crowd. "Donald Trump picking people like Betsy DeVos I think is a disaster," said Philadelphia woman, Beverly, who was at the march with her husband and son. "That's our main reason for coming," agreed her husband Howard. "Our first level to any type of success is education and for most of us, education is only through public schools. For generations, public schools have proven that they can put out some of the best and brightest students. I am a product of public schools, my wife is, our children are. It should not be an option."
A young man called Saul spoke about his reasons for being at the march. "My motivation is my youth – every day I try to make a positive change — this is obviously a positive change so I am here to support it. I believe it does start with protests, and with talking to people closest to you, and the ripple effect will happen."